Today Elizabeth and I had a photo shoot for her new soon to be released quilt pattern called "Sovereign Picnic".
It is using Lizzy's "castle peeps" fabric. The dress I am wearing is one that I made using the orange flags.
It is from McCall's pattern M5801 version A.
It was very fun to make, and I love the vintage retro vibe that the dress gives – especially with Lizzy's fabric. I am very pleased!!!!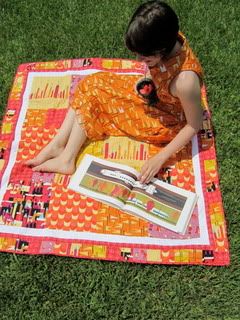 We had fun, and we are going to have more fun because Lizzy and I are going to an amusement park tomorrow. OMGEEEE. Fiesta TX here we come. BEST WEEK EVeR!!!!!
Also everyone pray for my nephew Alton because yesterday he fractured his wrist. Everything should be okay, but he is just a little baby so please pray that everything heals nicely.
Love,
Melysses