omgeee, i just got back from my family reunion in iowa. it was great to catch up with family and go to the state fair. i got to eat a turkey leg and hang out with babies so it was pretty awesome to say the least.
this is the un-devoured turkey leg.
if i look super fat in these pictures it is because i am super fat in these pictures.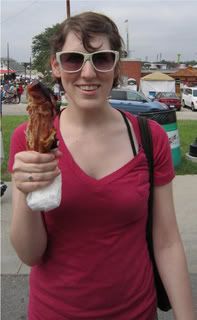 my cutest babes.
this is when alton and i had to kiss and make up after alton punched me in the face…but i still love him because he is not accountable yet.
on another note, i have just been feeling the saddest lately and the most isolated and alone. not trying to be a sad sap or debby downer, but i am just feeling like a black sheep of life, and an outKast of society. not fun zone, USA.
i am not feeling ready to start my last year of school and be grown up. this means everything is real now. i am starting my senior year of nursing school and am going to be a grown up. what is going on? who let that happen without telling me about it.
also the continental united merger is just the worst. i saw the proposed logo today and i almost threw up. i feel betrayed by the world. not only because my mom might not have a job anymore, but because all this business seems under the table and dirty; nothing that continental ever was.
what is there to even rejoice about?
well the church is still true, and lizzy and i are going raw. which is supposed to make everything perfect in your life; so i am pretty excited about that. so now i need a juicer. worth it.
what do people do when they are feeling down in the dump trucks????
i don't know, that is why i am axing you in the first place.
oh and to add insult to injury peepz have stolen lizzy's fabric for cat collars. what????
love,
melysses