21. twanky one. what up yall. it's my birthday. alright alright alright. this has been the most chill birthday and i am love love loving it. just with my mom and bee loving life and wishing ashlee was here. but for ser.
i have pulled a muscle in my back or i just have this terrible knot. you guys muscle pain is the worse. but those therma wrap gizmos are heaven sent for sure.
i have applied for over 50 jobs and i was just starting to get used to the idea of chilling out and doing big fat nothing this summer….but i kept on applying for jobs and now i have a real life interview on tuesday and i am flying back to baltimore tomar. it is bittersweet. because i love to chill and play video games with elizabeth and sew and take naps – but all i thought that i wanted was a job – and now i have the prospect of a job and i know that i have to leave for at least a few days whether i get the job or not…but i am sad to go. i am also really excited about the prospect of working. and getting to make the funnest scrubs and be the hippest nurse on the floor.
my sister ashlee said "you'll be just like nurse jackie, except for not addicted to prescription drugs or a dirty cheat". and that statement is 100% true.
this is my birthday last year. my dream of a friend, jenny, threw me a mexican themed child's birthday party it was awesome, with a hello kitty pinata and everything.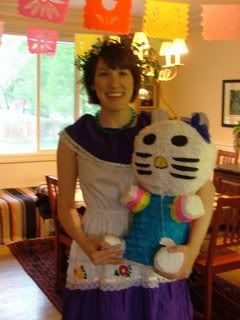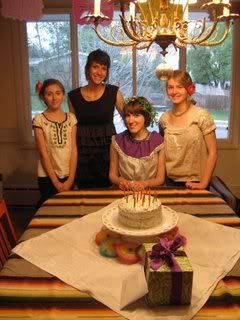 i miss those idaho peeps.
my mom told me that i need to grow out of wanting a 7 year old's birthday party….but they have the best birthday parties….what am i supposed to do!?!?!?!?!?! i know that is just part of growing up i guess that birthdays aren't crazy planned and all decked out. but this birthday has been perfect. i wouldn't have changed anything except to have ashlee here.